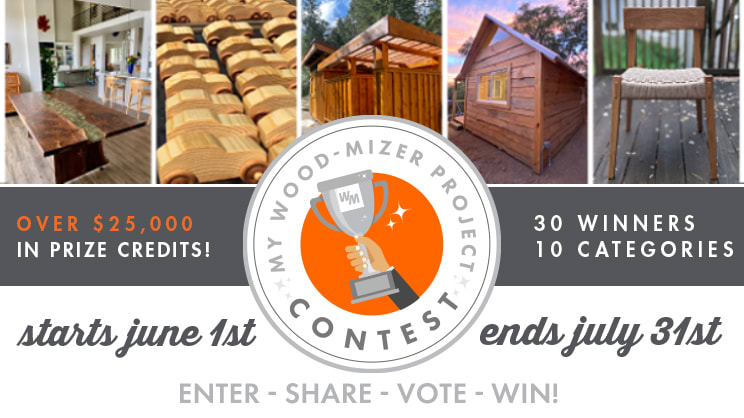 My Wood-Mizer Project Contest
The My Wood-Mizer Project Contest, a favorite tradition since 1985, gives Wood-Mizer sawmill owners an opportunity to showcase their dream projects milled and made with lumber from their sawmills. Sign in to your Wood-Mizer account to enter your project or vote for your favorites in the online gallery.

Dates to Remember
June 1st - Open for Entries
June 14th - Early Entry Deadline
July 31st - Entry Deadline

1) Enter
Enter a project milled and made with your Wood-Mizer online! Sign in to your Online Account or Create a New Account to submit your entry by July 31, 2023 to qualify for contest.

2) Vote
All entries will be automatically entered to win the People's Choice Awards! Share your project on Instagram or Facebook with #woodmizerproject and ask friends & family to vote for your project early and often (1 vote per person per day) online at project.woodmizer.com or project.woodmizer.ca.
View Projects

3) Win
Over $25,000* in Prize Credits! 30 Winners – 10 Categories
1st Place - $1,250*
2nd Place - $750*
3rd Place - $500*
*Credits can be used towards the purchase of any Wood-Mizer products, parts, or accessories. Credits have no cash value, are listed In U.S. dollars, And are valid For one year.
**Completed entry form And all required photos must be submitted Or postmarked by June 14, 2023 to qualify for early entry prize giveaway.