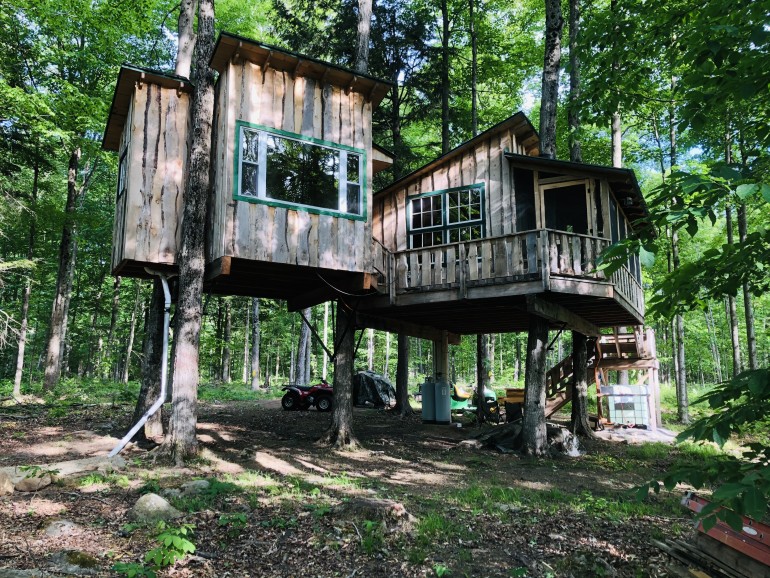 Joseph Trivilino

Project Description
This project is a two room treehouse with a screen porch and an outdoor deck connecting the living area and bedroom. It was completed over a three year period, with all the construction completed by myself, my wife Kim and my three grandsons Christopher, Cole and Casey that are currently 14, 12 and 11 years old. Five hard maple trees and a large cedar post are involved in supporting this treehouse. It is supported by Garnier Limbs screwed into the maple trees, purchased from Treehouse.com in Bend OR. The main support beams are 6" x 12" Hemlock. Floor joists are 2" x 10" Hemlock. Sub floor is 5/4" x 12" white pine. Wall framing is 2" x 4" white pine. Rafters are 2" x 8" Hemlock. Wall and roof sheathing is 8" white pine ship lap (this ship lap is also the finish for walls and ceiling on the inside). Siding is vertical 1" x 10" white pine with vertical live edge white pine as batten strips. Finish flooring is 4" wide hard maple tongue and grooved. Kitchen cabinets and countertop are black cherry. All the doors, windows and even the metal roofing are repurposed. This treehouse is off grid. We have running water from a 250 gallon tank and a 12 volt RV demand pump. Refrigerator, stove, heat and lighting all operate on propane.

Finished Dimensions
Main living area is 192 square ft. Screen porch is 96 sq ft. Bedroom/bathroom is 148 sq ft. Connecting deck is 64 sq ft. Total 500 sq ft. Also, the treehouse is 10' to 12' above ground.

Money Saved
I believe that we saved at least $10,000.00.
<< View More Projects